"R.E.A.L.
®

makes everyone feel the same comforting awkwardness."
R.E.A.L.
®

is made for Gen-Z.
We all know that good discussion is challenging. For kids today, it's especially hard — and scary.
They care deeply what others think but their brains haven't been taught to listen actively.
They want to be heard but would rather not talk (just txt pls!).
They don't intuitively trust each other. Gen-Z reports anxiety, depression, and loneliness at shocking rates (despite being hyper-connected to peers online).
They know the world is polarized but rarely encounter different viewpoints (thanks partly to algorithms that have run their newsfeeds since they got their first phones).
So: when it comes to class discussion, Gen-Z is just plain under-equipped.
Yet, as the best teachers intuit, research keeps proving, and recent world events make clear: discussion is a critical tool for learning, life, and democracy.
R.E.A.L.® helps Gen-Z discover that they can have great discussions where every voice matters.
R.E.A.L.
®

is Built For Teachers, By Teachers.
The teacher, Liza Cowan Garonzik, was frustrated at the range of engagement and the ambiguity of the grading that lay ahead. And she was worried: discussion – a skill for learning and life – seemed not at all intuitive to the kids in her classroom. Liza also recognized that the students who were successful were mostly extroverted, white, and coasting on patterns of discourse they practiced elsewhere. As much as it hurt to admit, she saw that discussion in her classroom was not an equal playing field.
Liza Garonzik comes at this work with experience as a teacher, administrator, and trustee in independent schools.
She's a Harvard grad with a Master's from Penn and a relentless fascination with the art, science, and impact of great conversation.
Liza built R.E.A.L.® Discussion to offer faculty a research-based method to help all students discover the discipline, joy, and power of challenging discussion — and to give schools a way to share the impact of that work.

An unabashed research nerd, Liza's design of R.E.A.L.® brings together ideas from across and beyond the education space, including Learning Science (e.g. Jahl Mehta, Glenn Whitman), DEI (e.g. Joe Feldman, Zaretta Hammond, Rosetta Lee), Gen-Z Development (e.g. Carol Dweck, Angela Duckworth, John Palfrey) and Edu-Adjacent Work (e.g. Atul Gawande, Sandy Pentland, Sherry Turkle + Workforce of Future reports by McKinsey, Pearson, Accenture, WEF). The R.E.A.L.® method has been practiced and refined in hundreds of classrooms across dozens of independent schools and R.E.A.L.® remains committed to action research today!
R.E.A.L.
®

is ready for your school.
There are three paths to "getting R.E.A.L.®."
We take a Choose-Your-Own-Adventure approach to PD, trusting faculty leaders to choose what will work best at their school. Contact us today to start that conversation!
All paths to R.E.A.L.® Certification
include a five-hour async online course, 3+ hours of synchronous work, and a one-hour personal consult.
Once a teacher is R.E.A.L. certified, s/he is qualified to use R.E.A.L.® Curriculum. R.E.A.L.® curriculum is required in any classroom using R.E.A.L.® (it's how we guarantee our impact!).
R.E.A.L.® Coursepacks are built for Gr. 7-10 Humanities classrooms, with differentiated versions for middle and high school. Each R.E.A.L.® Coursepack includes a Portfolio (paper) + Portal (online) for student use.

These materials are designed for impact and can be customized for your school. Many schools choose to sell R.E.A.L. Coursepacks through their bookstores.
The R.E.A.L.® Community is our best kept secret. It's where the "Discussion about Discussion" happens — among hundreds of independent school Humanities teachers. We've learned firsthand that it's easier and more fun to grow as professionals when connected to people who share your values but not your faculty lounge!
Party favors include: monthly "Study Sesh" events, newsletters, private social media groups, and open Office Hours (instructional coaching on-demand).
R.E.A.L.
®

is high impact.
The R.E.A.L.® approach to Discussion as a Discipline has proven stunningly effective across grades, subjects, and school cultures. It has been used with students in grades 6-11, subjects including History, English, Religion, and Humanities, and in independent, international, and charter schools.
Teachers report that R.E.A.L.® makes discussion "more equitable," "more rigorous," and "easier to assess."
The student results speak for themselves → → →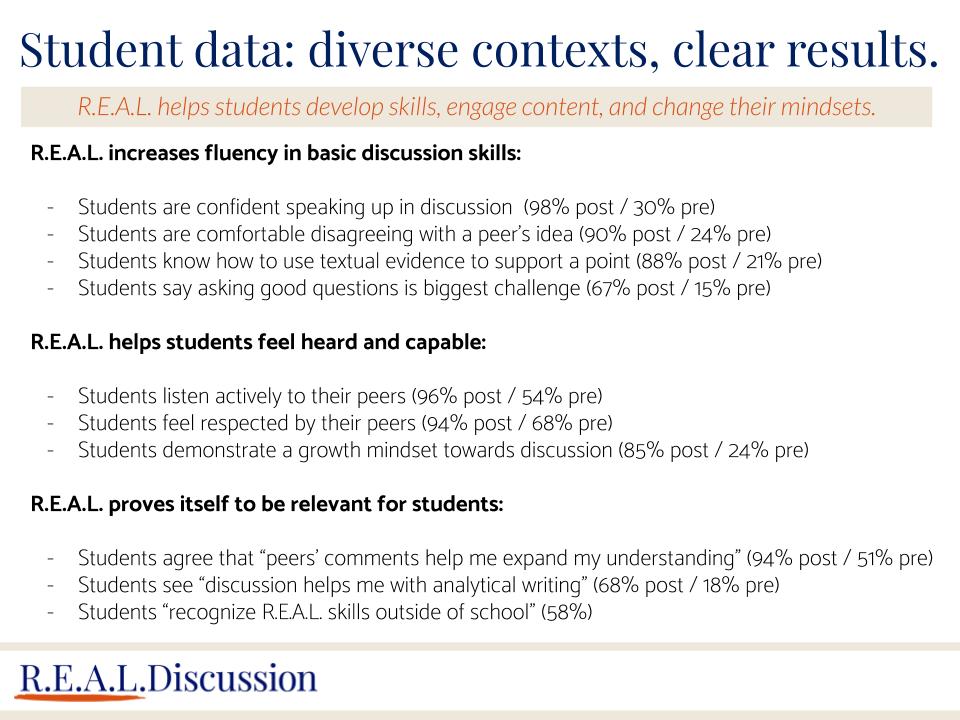 "R.E.A.L.® is giving me everything I've looked for and not found in Harkness for the last decade. And I appreciate that it's about connecting teachers with each other, too."
"R.E.A.L.® completely transformed how I think about discussion dynamics in my classroom. Once you see it you can't un-see it. Mind blown. Thank you!"
"Now, these are rubrics I can actually use!"
Teachers + Students Agree: R.E.A.L.
®

just works.
Building R.E.A.L.
®

Community
Making R.E.A.L.
®

Work For You
"I can't believe I was ever scared of talking in discussion. I remember the courage it took to raise my hand and speak in the best way that I could to express my ideas. I thought I was doing ok, but this was validated by NVCs I saw waving around me. I have grown so comfortable Excerpting, both E1 and E2, that I will focus on A next! "
R.E.A.L.
®

shows students why discussion matters.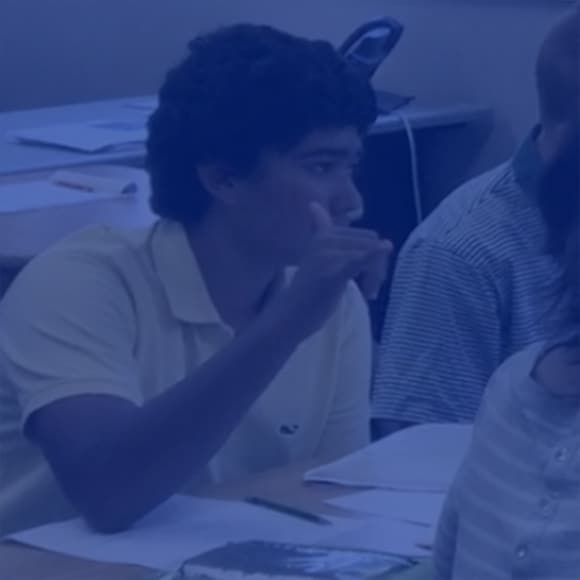 "My biggest win with REAL has been effectively relating my ideas to not only my peers' ideas but also relating them to the world. Making connections to the real world allows us to give meaning to the themes we discuss and more readily apply those ideas." ​– 10th grader
"I think REAL discussions serve as a draft for analytical writing, especially in how we use quotes, and they are a great place to speak your ideas and see how your peers react to it; similar to a band testing out songs at a concert before they release the studio version."
​– 9th grader
"REAL has made me conscious that I have started to ask more questions to move the discussion along, rather than just relating to my classmates. I think that this is a vital discussion (and honestly life) skill and I'm still working on it, but I have definitely improved."
​– 10th grader
"I have gotten better at taking notes about my classmates' comments, which is not only helpful for me in the future for my assignments, but also is helpful for them because I am consistently listening and processing their comments, even if I don't agree perfectly with them." ​– 9th grader
"R.E.A.L. helps us engage with each other and everyone gets a better understanding of the text when they look at it from different points of view. Personally, I have an issue with shutting down the ideas of others without considering them, but R.E.A.L. helps with the life skill of of realizing there are multiple correct answers, multiple ways to solve a problem."