ONE COMMON LANGUAGE. LOTS OF PATHS TO SUCCESS.
"R.E.A.L.
®

makes everyone feel the same comforting awkwardness."
R.E.A.L.
®

is made for Gen-Z.
We all know that good discussion is challenging. For kids today, it's especially hard — and scary.
They care deeply what others think and don't really know how to listen.
They want to be heard but would rather not talk (just txt pls!).
They don't intuitively trust each other. Gen-Z reports anxiety, depression, and loneliness at shocking rates (despite being hyper-connected to peers online).
They know the world is polarized but rarely encounter different viewpoints (thanks partly to algorithms that have run their newsfeeds since they got their first phones).
So: when it comes to class discussion, Gen-Z is just plain under-equipped.
Yet, as the best teachers intuit, research keeps proving, and recent world events make clear: discussion is a critical tool for learning, life, and democracy.
R.E.A.L.® helps Gen-Z discover that they can have great discussions where every voice matters.
R.E.A.L.
®

is Built For Teachers, By Teachers.
It all started during second period. Yet another "student-led" discussion fell flat: introverts withdrew, class clowns lobbed one liners, majority voices dominated. Few students used evidence or took good notes. Fewer looked at the person speaking. One kid used his phone under the desk, which everyone saw and no one addressed. Students were relieved when the bell rang.
The teacher, Liza Cowan Garonzik, was frustrated at the range of engagement and the ambiguity of the grading that lay ahead. And she was worried: discussion – a skill for learning and life – seemed not at all intuitive to the kids in her classroom. Liza also recognized that the students who were successful were mostly extroverted, white, and coasting on patterns of discourse they practiced elsewhere. As much as it hurt to admit, she saw that discussion in her classroom was not an equal playing field.
Liza Garonzik comes at this work with experience as a teacher, administrator, and trustee in independent schools.
She's a Harvard grad with a Master's from Penn and a relentless fascination with the art, science, and impact of great conversation.
Liza built R.E.A.L.® Discussion to bridge best practices in DEI and CBL in order to help all Gen-Z students engage in the deeply-human experience of great conversation. R.E.A.L.® demystifies discussion to structure all students for success, beginning with four skills: Relate, Excerpt, Ask, and Listen. Ultimately, R.E.A.L.® doesn't just empower students; it gives teachers tools to get curious about their classroom cultures. Through evidence-informed reflection and portfolio-based assessment, R.E.A.L.® provides an authentic way for classroom teachers, learning specialists and DEI practitioners to partner in service of students.
In designing R.E.A.L.® Liza made it so her screen-addled students could have better, more equitable, conversations about history, literature, and life — and so she could do a lot less work. Eight years and lots of iterations later (including a version for Zoom!), it's a method that makes teachers say: "Is there a more important calling for our times?" and "I've never had so much fun as a teacher" all in a single breath.

R.E.A.L.
®

is ready for your community
There are three steps to bringing R.E.A.L.
®

to your school.
Teachers and teaching teams choose how to learn R.E.A.L.® (online course, virtual seminar, or custom team workshop) and commit to anywhere from four hours to two days of deep thinking, practical exercises, and laughter.
Schools invest in R.E.A.L.® Resource Bundles for students. Bundles include an online course and a R.E.A.L.® portfolio, which scaffolds prep, note-taking, and reflection for a full year of R.E.A.L.® discussions. These resources make learning R.E.A.L.® student-led, not teacher-directed — and kids love them (so do teachers / admin: everything is documented!). Most schools sell R.E.A.L.® student resources through their bookstores.
Teachers talk to each other via optional monthly salons. This is a great opportunity for action research — our field knows surprisingly little about student-led discussion (beyond that it works), so we want your voice to be part of the conversation!
R.E.A.L.
®

is high impact.
The R.E.A.L.® approach to Discussion as a Discipline has proven stunningly effective across grades, subjects, and school cultures. It has been used with students in grades 6-11, subjects including History, English, Religion, and Humanities, and in independent, international, and charter schools.
Teachers report that R.E.A.L.® makes discussion "more equitable," "more rigorous," and "easier to assess."
The student results speak for themselves → → →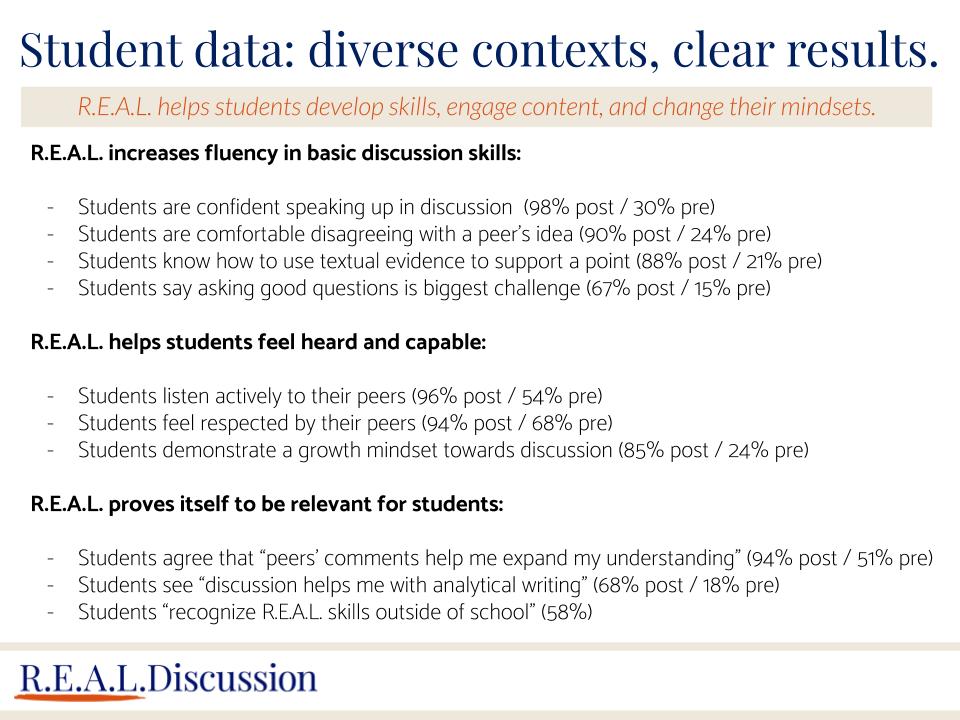 "R.E.A.L. ensures I will hear every student's voice, and, maybe more importantly, that every student will be heard by her classmates. That is simple but that engagement never gets old. R.E.A.L. also ties directly into analytical writing, which students appreciate, and I love. It just makes their so much writing better! I've talked with all of our teachers about using it next year."
Take Their Word For It: R.E.A.L.
®

just works.
Building R.E.A.L.
®

Community
Making R.E.A.L.
®

Work For You
"I can't believe I was ever scared of talking in discussion. I remember the courage it took to raise my hand and speak in the best way that I could to express my ideas. I thought I was doing ok, but this was validated by NVCs I saw waving around me. I have grown so comfortable Excerpting, both E1 and E2, that I will focus on A next! "
R.E.A.L.
®

shows students why discussion matters.
"My biggest win with REAL has been effectively relating my ideas to not only my peers' ideas but also relating them to the world. Making connections to the real world allows us to give meaning to the themes we discuss and more readily apply those ideas." ​– 10th grader
"I think REAL discussions serve as a draft for analytical writing, especially in how we use quotes, and they are a great place to speak your ideas and see how your peers react to it; similar to a band testing out songs at a concert before they release the studio version."
​– 9th grader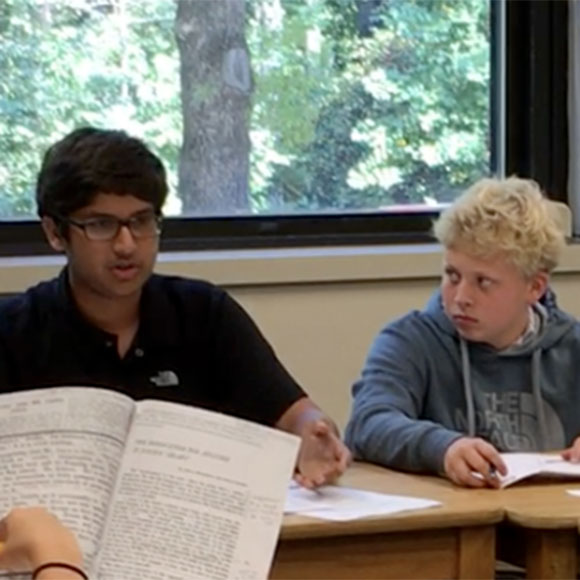 "REAL has made me conscious that I have started to ask more questions to move the discussion along, rather than just relating to my classmates. I think that this is a vital discussion (and honestly life) skill and I'm still working on it, but I have definitely improved."
​– 10th grader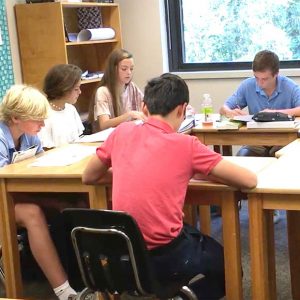 "I have gotten better at taking notes about my classmates' comments, which is not only helpful for me in the future for my assignments, but also is helpful for them because I am consistently listening and processing their comments, even if I don't agree perfectly with them." ​– 9th grader
"R.E.A.L. helps us engage with each other and everyone gets a better understanding of the text when they look at it from different points of view. Personally, I have an issue with shutting down the ideas of others without considering them, but R.E.A.L. helps with the life skill of of realizing there are multiple correct answers, multiple ways to solve a problem."