Protagonists: Meg Goldner Rabinowitz
The Protagonists series highlights the main characters of our mission: the teachers out there hustling to make their students feel known, heard, and challenged through student-led discussion.
Meg Goldner Rabinowitz, Assistant Head of School at The Northwest School
Hometown Lower Merion (Main Line), Pennsylvania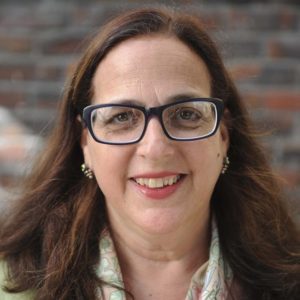 Favorite teacher growing up: who and why? I didn't have a lot of teachers in high school, or K-12, who really "saw" me. My 10th and 12th grade English teacher, Mrs. Cobb; I did love her. Being in her class was very much an exercise of guessing what she was thinking, and it was our job to figure out her interpretation of the text. But she did give me, in my senior year, and English prize and a collection of Edna St. Vincent Millay's sonnets. Also, I met Susan Lytle when I was 22 years old in graduate school when I submatriculated; she saw my potential, really thought that I had a perspective to add, and made me feel confident in my views and what I saw. She's continued to be a lifelong mentor. 
Describe yourself as a student in three words: Perceptive, diligent, and inquisitive. 
Current City, School, Teaching Assignments: Assistant Head of School at the Northwest School in Seattle. I'm in charge of all teaching and learning at the school. 
Favorite historical figure (or best line from history?): Elie Wiesel — I admire him because of what he survived and because of his writing in Night. Related to that, in teaching the Holocaust for the last 20 years, the quotation that really shaped me was "the only thing necessary for the triumph of evil is for a few good men (sic) to do nothing." 
Favorite literary character (or best line from novel?): I have two. The best line of literature to me is "there was no possibility of taking a walk that day" (first line of Jane Eyre). Jane was a critical figure for me with adverse childhood experiences — identifying herself through school, then teaching, and then through making her own choices was incredibly empowering to me. My runner-up is Sethe from Beloved — when Paul D says to Sethe "you your own best thing." That book — the demonstration of grace was stunning to me. 
Favorite school supply? 40 years — I've been using the Pilot Razorpoint 2. My favorite pen. 
Pet peeve about class (student-led?) discussion? One when they're just talking to me. I really need to not be the one who's affirming the answers. A pet peeve is when I've asked students to talk to one another and they don't. The other one is when a student who is really arrogant who really knows how to talk to me, and I'm accepting the student where they are, but the child says during a discussion with others something that just seems to erase the other contributions. That nuanced power play or leveraging is really frustrating. 
Favorite moment of class discussion? I have to say, I am such a huge believer in students annotating, and my favorite moment is when they're talking to each other and building on each other's ideas, and then somebody drops some text in there. Being a little further down the road in literature than they are, when I'm tempted to drop it in, and then a student does it instead — that's so wonderful. Also when students make a leap and connect it to another text. 
Biggest challenge to good discussion in a virtual classroom? Peggy Macintosh says "we are all bodies in the bodies of the world." One of the biggest challenges now is that we're all disembodied in this world. You just can't read the room, is what my son said. That presence is so precious. The fact that I'm still feeding off social cues at my age — imagine being 12 or 13, when you're still figuring out social cues. 
I do think there's also a way in which being in separate spaces creates a kind of safety. If we have to keep doing this, I think we could get better at it. We can create opportunities for students to give one another social cues. 
Text you count on to inspire conversation? Cynthia Ozick's "Prologue" from a book called Rescuers. I gave that to 8th grade kids through graduate students. She breaks down heroes, bystanders, the "human article." That's had the most hits of pieces that I use. And is this where I mention Mary Oliver? The accessibility of her poetry. And when I first read Jamaica Kincaid's Annie John, I'd never read a book that better described the trauma of teenage years. 
What do you nerd out about? Meditation — I read a lot about mindfulness meditation so I can have as many teachers as I can. I definitely nerd out about art and photography. Also films and reading films as texts. 
What is your wish for this world? I'd go with, when I think of my noble intention in life — justice and compassion. My wish for this world is that the concepts of justice and compassion would become that concepts that are most highly valued, and that any decision that we make would be rooted in them. 
When historians recount 2020, what will they be especially fascinated by? I believe that historians will recount that we stayed inside. I remember when we were first canceling things, slowly. I remember when Italy closed, and I realized that we would be closing the school — and everything just stopped. We now know that we can do this, that we can actually pause. I have no idea what that will mean. 
One prediction for the future of schools? The way we once thought of a chalkboard is how we now need to think of a computer. We just need to think of them in every child's hand. Understanding that our education system is linked to the digital divide — when I think about the future of schools, I think about the hybrid model. In the independent school world, it's how do we vibrantly teach the arts (public schools won't have them in the online world). The future of schools will be a blend. And student-centered learning can't just be a fad; with culturally responsive and project-based teaching, students need to be the drivers of their educations, and that's not just a trend anymore. When students learn virtually, they have to be the drivers of their own education. 
Best advice given to you by a department chair or supervisor? A Director of Studies once said to me, acknowledging my position in a complicated environment, "it's hard to be a prophet in your own land." And I fought it for ten years, feeling limited in leadership opportunities in my own environment. I hated hearing it, because it felt right to have credibility and gravitas where I was. 
Educator-Influencer you count on? First place you turn for classroom advice? My first thought was Susan Lytle, my lifelong mentor — she's the one who really taught me four tenets about being an English/Humanities teaching (learning is language-based, social, meaningful, human). I can talk to her about any school-related question in the world. Also Dr. Mirangela Buggs, who helped me to articulate the multiple lenses that I use to teach. To have, in equity teaching, the mentorship of an incredible woman of color helped me to grow leaps and bounds as an educator. And then Sarah Primo, a teacher who I worked with, who is much younger than me. She's incredibly creative and visionary, and she so values student voice, even in creating their learning space. 
Better student-run discussions will decenter whiteness and democratize voice. They'll really provide safe environments where students can exercise their voice and agency. They'll really shape and change our national discourse and the capacity to listen and be present and respond in a way that is thoughtful and reflective, and could include texts of any kind. Discussion becomes the kind of test ground for building arguments.