1000+ STUDENTS. EXCITING RESULTS.
The impact of R.E.A.L.
®

is stunningly consistent across schools, subjects and grades.
Since all students deserve discussion skills, R.E.A.L.
®

has intentionally begun in a broad range of schools.
The R.E.A.L.® approach to Discussion as a Discipline has proven effective across grades, subjects, and school cultures. Its mastery model has been used with students grades 6-11, subjects including History, English, Religion and Humanities, and in independent, international, and charter schools. Across all of these contexts, teachers report that R.E.A.L.® makes discussion "more equitable," "more rigorous," and "easier to assess." The student results speak for themselves!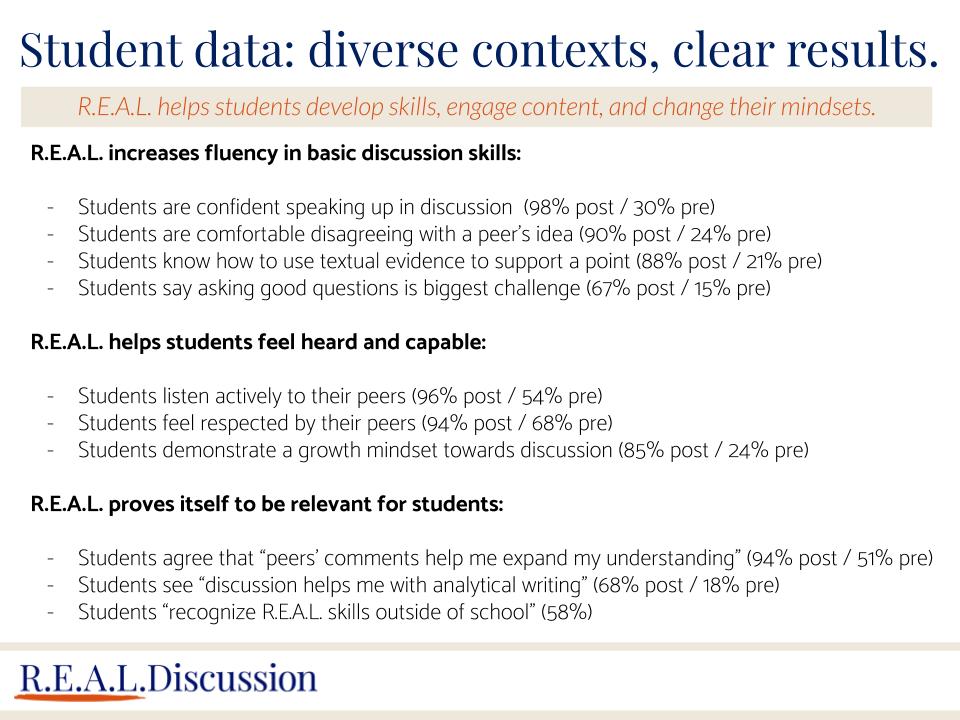 "R.E.A.L. ensures I will hear every student's voice, and, maybe more importantly, that every student will be heard by her classmates. That is simple but that engagement never gets old. R.E.A.L. also ties directly into analytical writing, which students appreciate, and I love. It just makes their so much writing better! I've talked with all of our teachers about using it next year."
"R.E.A.L. helped my students find their voices. In fact, R.E.A.L. has become such an integral part of our classroom that the students made it extremely clear that it HAD TO be a part of our online learning journey this year! We have had to make some adaptations - like experimenting with the perfect size for breakout rooms...we've settled on four - but because of R.E.A.L. the students have continued to develop their communication and observation skills, even when they aren't together physically. I also think that it is a great tool for ensuring our student's wellbeing at this time of uncertainty."
"At the beginning of the year, you can tell your students that they are going to learn 'discussion skills.' To them, that is an abstract idea and can seem daunting. R.E.A.L makes the intangible tangible and gives students concrete methods to improve discussion and conversation skills. It has been wonderful to see their confidence and ability grow this year."
"R.E.A.L. helps us engage with each other and everyone gets a better understanding of the text when they look at it from different points of view. Personally, I have an issue with shutting down the ideas of others without considering them, but R.E.A.L. helps with the life skill of of realizing there are multiple correct answers, multiple ways to solve a problem."
"My biggest win with REAL has been effectively relating my ideas to not only my peers' ideas but also relating them to the world. Making connections to the real world allows us to give meaning to the themes we discuss and more readily apply those ideas." ​– 10th grader
"I think REAL discussions serve as a draft for analytical writing, especially in how we use quotes, and they are a great place to speak your ideas and see how your peers react to it; similar to a band testing out songs at a concert before they release the studio version."
​– 9th grader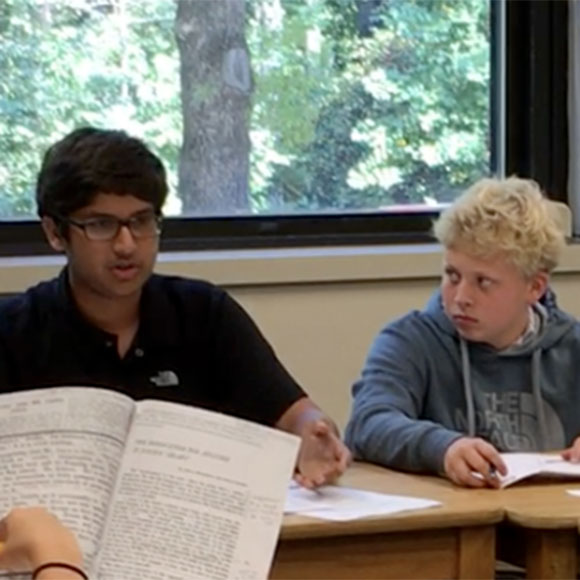 "REAL has made me conscious that I have started to ask more questions to move the discussion along, rather than just relating to my classmates. I think that this is a vital discussion (and honestly life) skill and I'm still working on it, but I have definitely improved."
​– 10th grader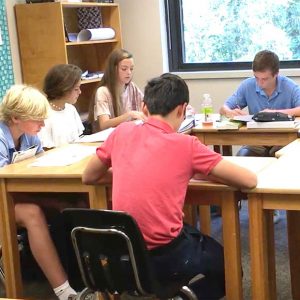 "I have gotten better at taking notes about my classmates' comments, which is not only helpful for me in the future for my assignments, but also is helpful for them because I am consistently listening and processing their comments, even if I don't agree perfectly with them." ​– 9th grader