A MASTERY MODEL FOR STUDENT-LED DISCUSSION
R.E.A.L.
®

helps Gen-Z students engage deeply with content and classmates.
The R.E.A.L.
®

system includes skills, routines, and resources.
R.E.A.L.
®
is a framework designed to fit into existing curriculum. Understanding that sustained conversation is less intuitive to students today than it has been historically, R.E.A.L. begins by building common language about discussion. It starts with four basic skills: Relate, Excerpt, Ask, & Listen.
For Middle School students, sub-skills focus on helping students shape and recognize their contributions to the conversation.
For High School students, sub-skills are more nuanced, with opportunities to practice facilitation, analyze group dynamics, and consider how discussion skills deepen content knowledge, develop relationships, and prepare them for the "real world."
R.E.A.L. in action in a 9th grade English Class
R.E.A.L.® uses routines to support student mastery of the skills outlined above.
Prompted by R.E.A.L.® Discussion Manuals, these routines include rituals for preparation, goal-setting, pass-offs, note-taking, and reflection.
For example, after the conversation filmed above, one student used her End-of-Cycle Reflection to say the following:
R.E.A.L. Discussion Manuals offer a playbook for students, empowering them to lead routines through which they practice, and eventually master, R.E.A.L. skills.
A ninth grader's reflection after a discussion about "The Yellow Wallpaper."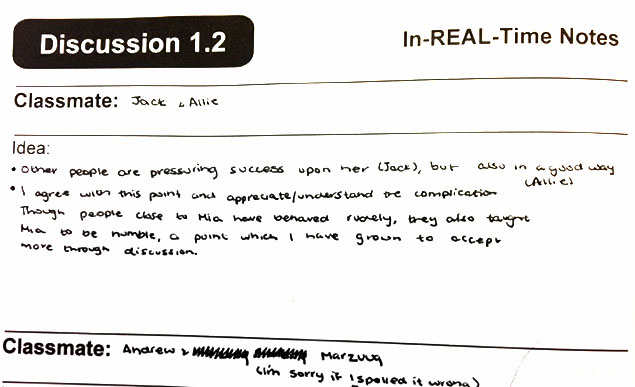 In both Middle and High School formats, students stop to take "In-REAL-Time" notes twice during the discussion, where they recap and respond to a peer's idea.
High school students practice peer observation as part of the R.E.A.L. system. "Data" captured by peers informs their goals and reflections.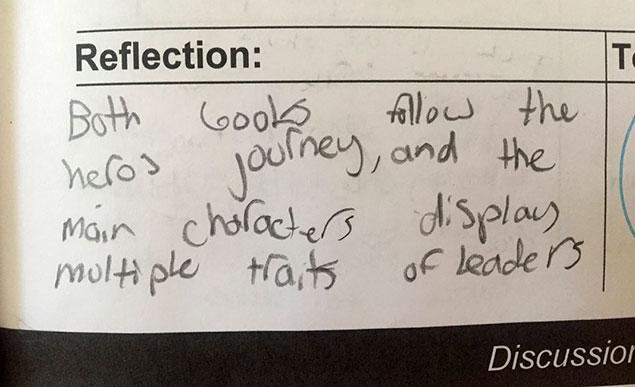 Before switching to a new discussion question, middle schoolers stop to write a "draft thesis statement" as if they were going to write a paragraph on the topic at hand.
Both Middle School and High School versions include rituals for "D.Q. Prep," which involves an exercise called "Quotes and Notes."
TEACHER RESOURCES: Assessment, Alignment and a Community
R.E.A.L. offers teachers resources that have been designed to solve for some of the most common challenges with student-led discussion — identified through years of hanging out in a faculty lounge between teaching assignments and dozens of in-depth interviews!
Assessment: honoring the adage that "we assess what we value," R.E.A.L. offers teachers a guiding philosophical framework, robust tool kit, and example methods for assessing discussion — but expects that teachers will design an assessment system that makes sense for their students and their style. All training opportunities include time for teachers to tinker with assessment structures.
Alignment: in response to widely held notions that sometimes student-led discussion feel like a "waste of a day in terms of content," R.E.A.L. is designed to align student-led discussion with analytical writing assignments. Indeed, all teachers who have used R.E.A.L. report an improvement in students' analytical writing – whether talking about literary analysis paragraphs in middle school or DBQ's in an A.P. History course! Students appreciate this connection as well.
Community: The power of R.E.A.L. transcends individual classrooms. It's an opportunity to equip teachers and students across a broad range of schools with a standard understanding of discourse. So, we start by connecting teachers in conversation about discussion in three key ways: through structured online professional development, an informal practitioners' network, and our blog – In R.E.A.L. Time .
EXTRA CREDIT: Research-aligned, in purpose and practice
The R.E.A.L.
®
method is designed to make it easier for teachers to enact research-backed best practices:
R.E.A.L. takes its cue from EduLegends like Grant Wiggins (of Authentic Education (2004) and Understanding-By-Design (1998) fame), Parker J. Palmer (specifically his concept of how classroom conversation can "Heal[ing] the Heart of Democracy" (2011)), and Tony Wagner (and his vision for schools to develop talent the world needs (2012)). It also acknowledges the influence of well-celebrated discussion methods like Harkness and Socratic Seminars.
R.E.A.L. builds on the research that established student-led discussion as an effective learning activity, whether referring to the work of John Hattie (2019, 2017, etc.), Chou and Lin's concept of "Positive Interdependence" (2015), or Grossman and Hatch's focus on discussion as a teaching method (2009). It also accounts for research that links assessment practices and character development, such as Duckworth's research on grit and goal setting (2011), Dweck and Blackwell's exploration of Growth Mindset (2012), and the well-founded Balanced Assessment movement (Stiggins (2009), McTighe (2016), and others).
R.E.A.L. is built to bring together today's best practices, particularly related to metacognitive engagement and mastery learning. Inspired by Project Zero at Harvard, R.E.A.L. makes discussion "visible," (Rittchart et al, 2011) and its structure scaffolds both Deeper Teaching (Lampert, 2015) and Deeper Learning (Jahl and Mehta, 2019). Its opportunities for differentiation align with Tomlinson's work on neuroscience and assessment (2019) and Guskey's approach to mastery (2015). It also operationalizes recommendations for making class discussions equitable (Hammond, 2020; Schafer, 2017) and engaging Generation-Z students (Cook, 2019).