Office Hours with Claire Goldsmith
The Office Hours series recruits experts from within the field of education and beyond to share their specific knowledge and perspective on a topic or a series of topics. This week, IRT spoke with Claire Goldsmith, Executive Director of the Malone Schools Online Network (MSON), to discuss her work in education — specifically, online education. MSON is a consortium of twenty-six schools whose students can take collaborative online courses together in subjects not offered in their own school communities. 
First, tell us a little bit about your background. How did you get into education? What motivates you to be in the field?
I wanted to be a teacher from the moment that I fell in love with school, which was basically right from the start. I can't remember a time that I didn't love school; the people I looked up to the most in life were my teachers. I was fortunate enough to attend excellent schools. I remember at a pretty young age looking at the head of Winsor (Goldsmith's alma mater) and thinking "I want her job." I never really wavered from that. I did peer tutoring when I was in high school, and then in college spent a lot of time teaching and serving as department chair in a Breakthrough program then called Summerbridge Cambridge.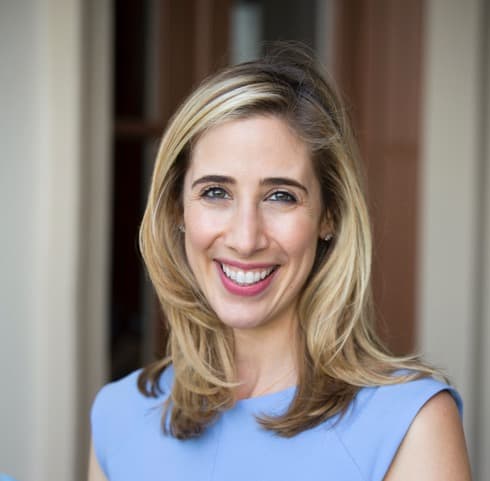 There was a fork in the road, for me, when I had to decide: do I go into academia, or not? My path in college led toward that: I was interested in 19th century French history and literature, and I considered a PhD. I went to France on a graduate fellowship in the year after college, and realized that I wasn't great at learning totally in isolation (the university system there was on strike that year). I missed the community of learning and the interactions that happened around learning. That pushed me to go back and start teaching in an independent school. It seemed like the perfect place to be engaged in the subjects I loved, but to do it in a way that was relational. I taught in Los Angeles (at Harvard-Westlake), three subjects, coached middle school debate, and loved it.
Eventually, though, I wanted to go back to graduate school, to zoom back out and see other sides of education. I was the only independent school person in my program at Stanford Graduate School of Education, and I was really forced to think about education on a much broader scale. From that, I fell backwards into online learning. I'd been really skeptical about it, even after taking a class on online learning. But I got a call from Stanford Online High School and realized that it was exactly what I wanted to do next: helping a relatively young online school within a university evolve and develop into the kind of Independent School it wanted to be. I could take the best of what I knew, build something, and apply it to something with much broader impact. My first job was Director of Student Life in an online high school, which a lot of people thought sounded like a joke. It was a cool challenge to think about how to develop a community in a fully online context. It felt like a startup! There were so many interesting problems to solve.
I've always loved tinkering, and I love building things from the ground up, so this startup aspect really appealed to me. I spent almost five years at SOHS and served in almost five roles. I built the admissions office, ran an incubator within the school, which included the Malone Schools Online Network, then I went in to run admissions and external relations. I also taught history along the way. I loved the experience. I always felt as if I were in this questioned corner of education; a lot of people were really curious about why I'd done what I did. I'm glad that I stuck it out. I learned so much; I learned that taking a risk like that, and being in a younger environment, meant that I got to do a lot of jobs that I would've never been able to do in a more established space. I ran head of school searches; I got to build departments.
Long story short, MSON was growing, and we decided we needed an executive director, so I became the first of those, succeeding the volunteer Executive Director who served before me (she was also a founder and the longtime chair of my board). That was also when I wanted to move back to Los Angeles. I was pregnant with my first child, and the timing was right. At this point, MSON is a consortium of twenty-five brick and mortar schools and Stanford Online High School.
What's always been most compelling to me about Stanford Online and MSON is that we prioritize time together. People think of online learning as cold and disconnected, but it's not and doesn't have to be. When we train teachers, we talk a lot about how you use your time. What do you do in class that can only be done live and together? That's discussion, debate, collaborative work. It's also about empathy and connection. It's hard to replicate that in other ways. That's what got me energized about flipped classrooms. Also it's just incredible that students from around the world can connect together to a world-class educational community.
A lot of what we've realized, too, during this period of online learning is that moves like flipped classrooms and multifaceted collaborative exercises are even more useful and beneficial than we'd realized. 
Yes! Working online asks us to be creative about what the classroom means. So many teachers think that participation is just speaking up; especially online, though, we have to think about engagement in a new way. We should've been thinking about that all along.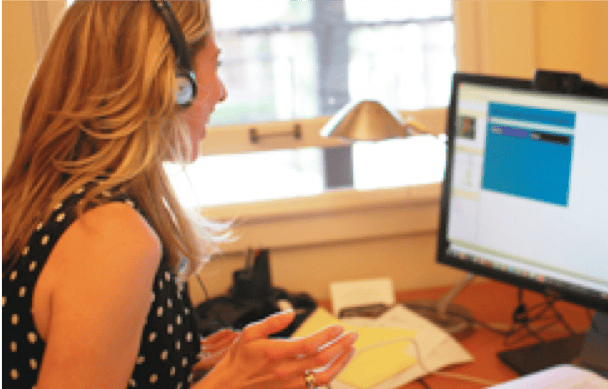 There's a real tension between what's best for kids and what's best for families right now. You would never have students staring at screens all day, but parents also need their children to be actively engaged in schoolwork if they're at home so that the parents themselves can do their work. At MSON, we work a lot to train teachers and help them focus on building really engaging courses, so that that screen time isn't wasted. We have a worksheet called "Making the Cuts," where teachers write down every single thing they do in the class. Then we have them cut that in half, because they're just not going to be able to do all of that stuff. From there, they have to think about what can be synchronous vs. asynchronous. What teachers choose to keep in class are often what people would think is least important — the bonding games, the opportunities to make jokes, the opportunities to share anecdotes from real life. Teaching online requires thinking deeply about the purpose of class time.
We'd love to learn more about the vision behind MSON. What do you see as the role of the work you do in the world, both now and in the coming years?
We have a teacher at one of our member schools who said something like "MSON is actually about building democracy." I believe that. What we're doing is bringing students together across difference: different school communities, geographic regions, climates, political climates, and on and on. We put them in seminar discussions to engage and learn together. That's powerful because it "bursts the bubble" of being in one school. It allows students to connect with a teacher who teaches totally differently from teachers in their schools. Kids request college recommendations from their MSON teachers all the time. They see kids who are different for themselves; they also sometimes attend class with kids who look like them for the first time, who live far away. That's really powerful.
Another aspect is collaboration. Schools are extremely siloed, sometimes because they're competitive with one another. For our industry to survive, schools need to collaborate. There is no reason that every school needs to have a teacher who teaches multivariable calculus. Why not have someone who's amazing at it at a partner school teach that?
The next level down is this: for students, you get a chance to take a class that you wouldn't be able to take otherwise. You can fall in love with a new subject. For teachers, there's a chance to teach something that you'd love to but otherwise wouldn't be able to. Those teachers get to learn and play with a new format. The benefit, then, to the school is that students and teachers are part of this really cool program that enhances practice, keeps teachers and students engaged, and lifts the pedagogy of the school.
IRT focuses largely on class discussions. What is the role of discussion in MSON classes? In what ways do students interact with one another, build up ideas together, using your platform?
Class time is reserved for discussion; there's not supposed to be lecture when students could interact with one another. Even in the STEM classes, there's a community element, and students are supposed to be connected. We don't have a set program of how to lead discussion. We defer to our teachers; we're open to how they want to do it. We do ask teachers to aim to have every student speak within the first ten minutes of class.
Our teachers often use the chat function on Zoom. It can be a way to encourage discussion. I'm into sending individual messages to prompt students, thanking them for their contributions, and encouraging them to share their work. We have one class that's a team-taught course, and they use a debate format in class: students research sides and there's a structured format that they use live in class.
We are actually a hybrid program, and historically, our students have joined from classrooms at member schools with video conferencing hardware. We haven't really emphasized all the bells and whistles out there in the EdTech world; on our previous platform, we didn't even have breakout rooms! We emphasize the rooms connecting in to one another—and attendance in a physical classroom space—because it's important to be seen and heard. Of course, our teachers rely on many other tools—virtual white boards, interactive slide decks, screencasting software, tools specific to math or languages—but the magic is in the discussion during class.
There's been so much conversation about the bias that comes into online learning, especially surrounding students needing to have their cameras on. Since the pandemic, we have worked with schools all over the world who have students in so many different contexts. We have learned a lot and helped schools shape their own policies in this area. As a general rule, though, in our program we ask for cameras to be on, so that students are fully present. There's a notion of what we call "functional absence" when students are logged in, but they're just not engaged or responsive. They're absent. You can't ignore that in an online school or program, but you also have to approach that student with empathy.
Just like you would in person.
If you had a student who just disappeared to the bathroom for thirty minutes. You wouldn't just punish a student right away; you'd want to know what's happening. Students have all kinds of reasons to have to turn cameras off, especially now.
As an educator/a leader in education, and someone who's been in innovative spaces, who do you look to to feel inspired, challenged, or comforted?
I will say that, for me, there's always a woman angle. I don't think I fully got this when I was at an all-girls' school, but there are elements of my life that are really different as a working mother. I really look up to women role models of mine.
I'm on the board of The Enrollment Management Association, which oversees the SSAT and supports independent school professionals. The CEO, Heather Hoerle, is someone who really inspires me. She runs this large nonprofit, with a very long history, and yet she's so future-looking. It's a really interesting moment. Schools are going test-optional, and there are equity concerns in testing and in schools in general. She's a leader who never clings to the past and is always willing to look to the future. I tend to admire mostly people who have charted a path that is rooted in traditional things, but willing to take risks and be innovative.
Really, my role model in life is Hillary Clinton. To me, the smart woman who is most inspirational to me is always trying to help people, trying to do what's right for the people. Some may disagree, but I see Clinton as exactly that kind of woman. That inspires me.
What is one prediction that you have for the future of education.
People often ask me if all schools will eventually be online. The answer is no. As the parent of a preschooler, I see the value in in-person schooling experiences, even when you have the best online learning possible. We will always be a mix.
I think that choice at every level will continue to expand. Student agency, especially with more online choices, will expand. Students will be able to choose how they want to go down their paths. There will be more awareness of how students can learn differently. Alternate paths. Education won't be fully "personalized," though, and it shouldn't be; we will always move toward community education. We need that in this world. Students and teachers should still learn together, challenge one another, and build real learning relationships, regardless of platform.
Thank you so much for joining us, Claire!